WADI - Web Application Distribution Infrastructure
Get WADI
Download WADI 2.0-SNAPSHOT .tar.bz2, .tar.gz, .zip (9.0Mb)
Download WADI 0.9
.tgz
,
.zip
(6.2Mb)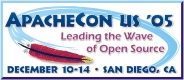 WADI is an acronym of 'Web Application Distribution Infrastructure'.
WADI started life as a solution to the problems surrounding the distribution of state in clustered web tiers, but is becoming a more generalised distributed caching service.
WADI's aim is to resolve many of the problems of dealing with state in a cluster. This involves technologies such as :
WADI Core:
Vertically - a cache with pluggable/stackable paging and persistance mechanisms (File, Database, etc.)
Horizontally - A scalable, highly available, self-partitioning, self-healing clustering substrate - a distributed index/map
Pessimistic locking semantics
Transparent State->Invocation and Invocation->State migration
Under construction - Various replication strategies (including efficient in-vm replication) for HA state
WADI Web:
A resolution to application vs container space concurrency issues surrounding HttpSessions
Pluggable HttpSession serialisation strategies - per-session, per-attribute
HttpRequest relocation (by redirection and proxying)
Under construction - pluggable HttpSession replication points - immediate, end-of-request-group, timed
WADI currently supports the following J2EE containers and application servers:
Tomcat 5.0.18+, 5.5.X
Jetty 5.1.3+, 6.X
OpenEJB (underway)
Geronimo-1.0/Tomcat or Jetty (underway)
JBoss-4.x/Tomcat or Jetty
WADI-2.0 is a complete rearchitecture and rewrite. New documentation is being entered into the WADI Wiki. We hope to have a 2.0 release out shortly.
WADI has always maintained close ties with Apache Geronimo and has recently accepted the Geronimo community's invitation to become a Geronimo subproject.
Please use the Getting Started Page to boostrap yourself into WADI's world.
Please browse our FAQ for further details.
If you have problems or concerns with WADI, ask on the users mailing list or join us on irc at <irc://irc.codehaus.org> on #wadi.